Greeting
"A life that is only once. Have a rich and healthy life to make your dreams come true."
Physical health begins with the mouth that takes in food. Our clinic not only protects the patient's oral health, but also considers the general health that goes beyond the oral health. We also want to support a prosperous and healthy future from oral health in order to realize the dreams and things that patients want to achieve.
Our goal is to be a life partner who can feel free to consult with us about anything, regardless of teeth or mouth. Feel free to talk about anything from your teeth and mouth concerns to your work, daily life, future dreams and what you want to do. Let's draw a bright future together.
Information
Clinic name
栗林歯科医院 Kuribayashi Dental Clinic
Director
Kenji Kuribayashi
Address
2-4-10-2F Takasu, Urayasu City, Chiba Prefecture Inside the Inship Medical Mall
TEL
047-700-7211
Open-Close
Mon-Fri 9:00-13:00 14:30-18:30
Sat・Sun・Holiday 9:00-13:00 14:00-18:00
Holidays
5/3~5(GW)・12/30~1/5(New Year Holiday)
Access
Directions by bus
From the south exit of JR Keiyo Line "Shin-Urayasu Station", Tokyo Bay City Bus system No.10or19 "Juntendo University entrance" 1 minute walk, system 15 "Tokyo Gakukan-mae" about 6 minutes.
Directions by your car
About 5 minutes from "Urayasu Ramp" on the Metropolitan Expressway Bayshore Line.
About Parking and Bicycle parking
[Parking] Inship building parking lot, 38 cars are available.
* Free for 2 hours and 30 minutes from warehousing
* Please be sure to issue a parking ticket when you enter the parking lot and bring it to our hospital. We will process the discount at the reception.
* If the treatment time exceeds 2 hours and 30 minutes, please contact our staff. [ Bicycle Parking ] You can use the bicycle parking lot on the premises of the inship building free of charge.
Medical treatment menu
Preventive dentistry
We provide preventive care and guidance to prevent diseases such as cavity and gum disease, and to prevent recurrence. Our goal is to have a life that will not bother my teeth for the rest of your life.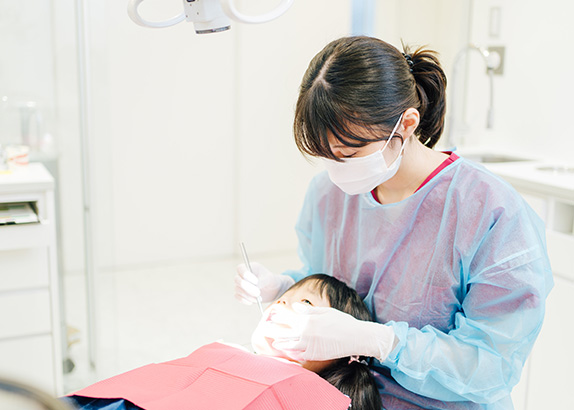 Cavity treatment
Caries is a disease that is difficult to notice due to lack of subjective symptoms at the initial stage. However, as it progresses, you will have to pull out your teeth, so early detection, treatment and prevention are important. Focusing on treatment and prevention.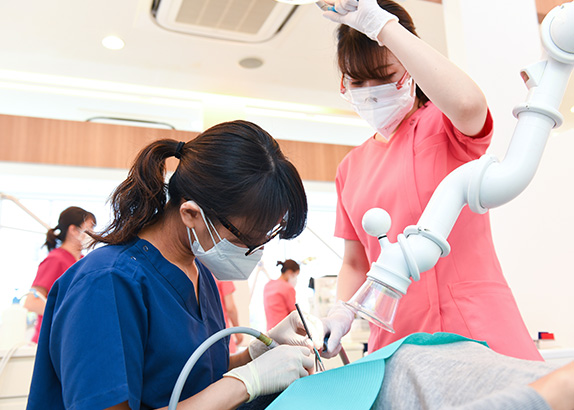 Gum disease treatment
"My gums are bleeding," "I'm worrying about bad breath," and "swelling of the gums" are signs of periodontal disease. When periodonal disease is allowed to progress into its more serious stages, teeth might fall out. This is because early detection / treatment and daily care are important. A specialist in periodontal disease treatment will treat you.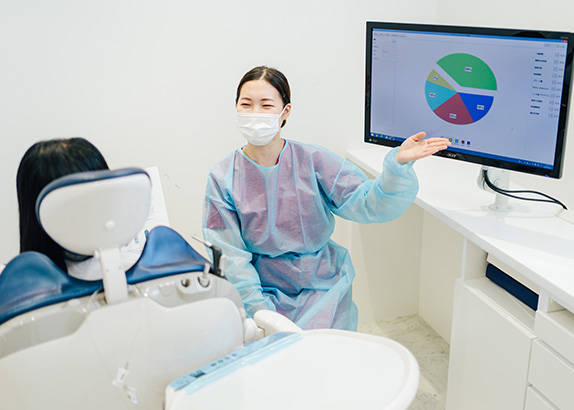 Oral surgery
We perform temporomandibular disorders caused by wisdom tooth extraction and bruxism, improper bite, bone shaping to make dentures easier, stomatitis treatment, and lip and tongue surgery using laser.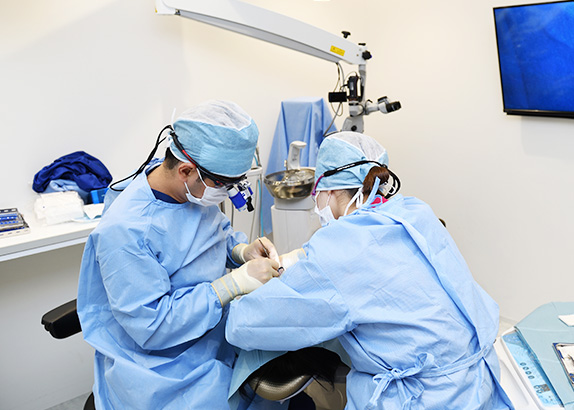 Pediatric dentistry
In addition to making strong teeth that are less prone to tooth decay, we are also focusing on orthodontics for children so that their children can maintain their oral health for the rest of their lives. We will solve general problems around your child's mouth.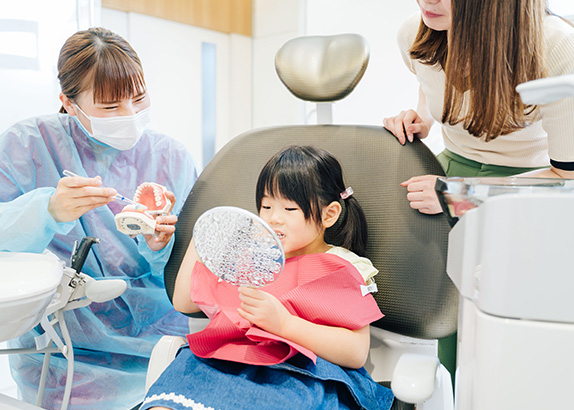 Aesthetic dentistry
In order to create a healthy and beautiful mouth, it is necessary not only to treat locally, but also to comprehensively grasp the entire mouth and think about beauty. Accurately grasp the current state of the patient's oral cavity and lead to an ideal oral environment.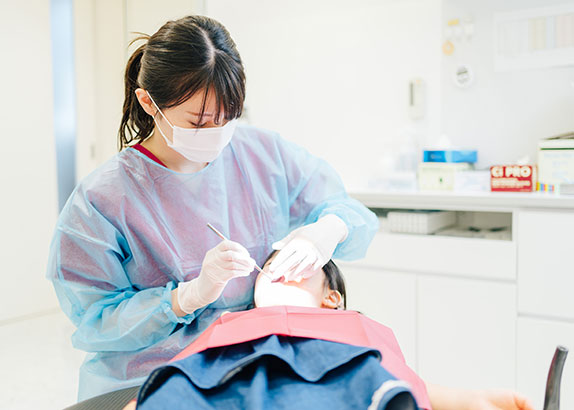 Implant dental treatment
We perform implant treatment based on accurate examination and diagnosis using advanced inspection equipment such as CT. In collaboration with a dental anesthesiologist, we provide safer and more secure implant surgery.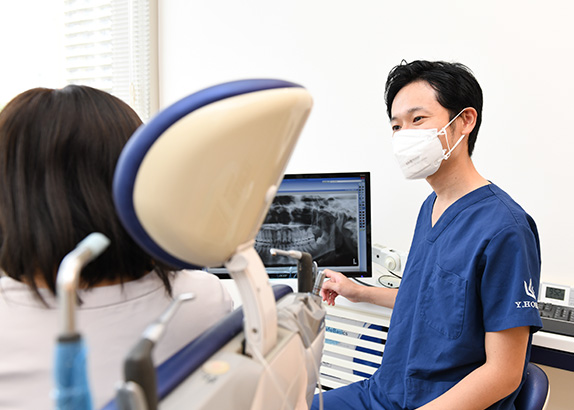 Denture treatment
In cooperation with K Denture Create, a denture specialist, we respond to each individual's needs, from adjusting the meshing to beautiful finishes. Achieves ideal meshing and fit.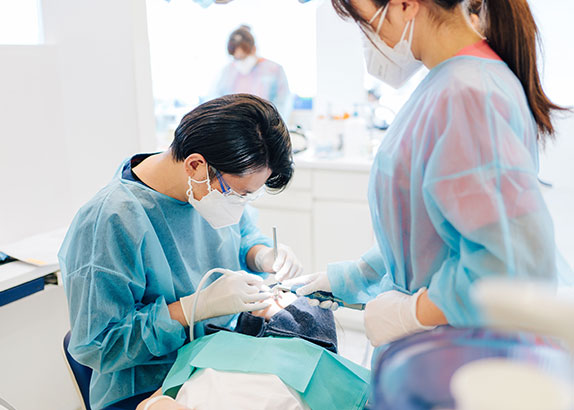 Braces
It supports both adult and pediatric orthodontics. We have introduced Caddyax, a state-of-the-art inspection device that can measure jaw movements, to provide more accurate treatment of tooth alignment and occlusion.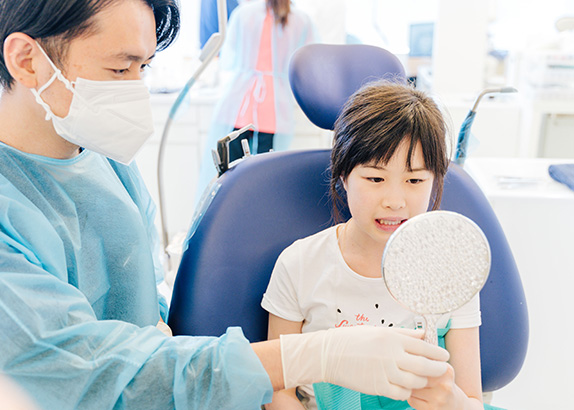 Mon-Fri 9:00-13:00 14:30-18:30 Sat・Sun・Holiday 9:00-13:00 14:00-18:00
TEL:047-700-7211